The completely customized design option is for couples seeking a completely unique wedding stationery package. We strongly believe in collaboration and work closely with you to create a one of a kind design made just for you.
OUR CUSTOM DESIGN FEE STARTS AT $450 AND REQUIRES A MIN PRINT ORDER OF $1,000
Do you already have a favorite invitation in our shop? If you choose from the collection of pre-existing designs we will customize the invitation of your choice with your wording and colors.
FONT CHANGES ARE AVAILABLE FOR AN ADDITIONAL FEE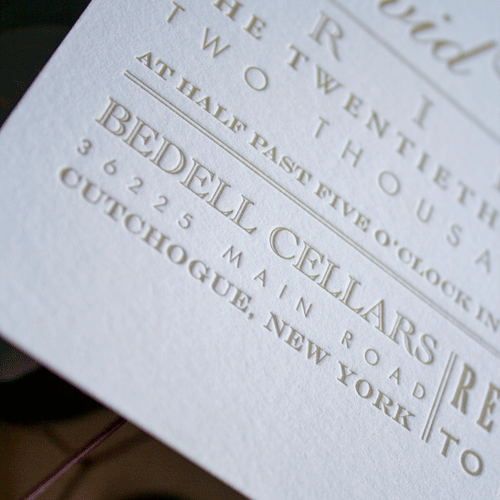 Looking for a touch of luxe to your wedding suite? From foil to oil based ink, letterpress is the perfect way to honor the old-style print method and add a touch of elegance to your day.
OUR LETTERPRESS PACKAGE REQUIRES A MIN PRINT ORDER OF $1,200
On a budget or just feeling crafty?
Consider this DIY Package and get your hands dirty. This bare-minimum package still includes a one-of-a-kind, handcrafted design that follows the same steps and procedures as the others. The best part is you get to put your own personal touch to them by hand assembling them on your own (which I might add is the perfect excuse to pour a glass of wine and gather your bridal party, family and/or future in-laws to help give you a hand).
DIY PACKAGE
100- CUSTOM DESIGNED INVITATIONS
100 - COORDINATING RSVP CARDS
100 - WILD CARD
100 - A7 ENVELOPES (No printing)
100 - 4 BAR ENVELOPES (No printing)
CUSTOM RETURN ADDRESS STAMP
*Proceeds from the custom stamp go to United Cerebral Palsy San Diego